Munchkin Quest Portal Kombat & Promo Set 1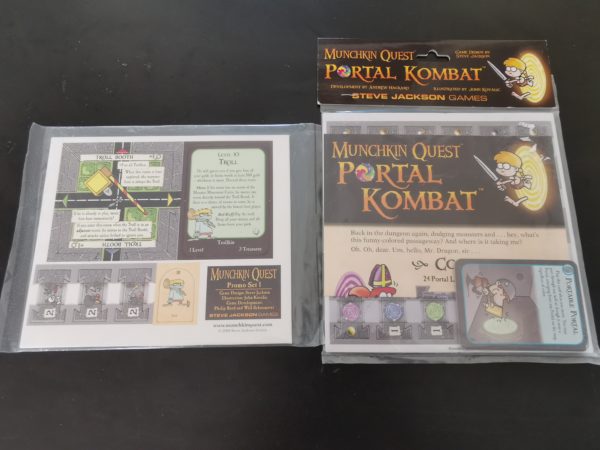 Omschrijving
Portal Kombat
Go Ahead, Split the Party!
Portals are magical gates between rooms. With the 24 Portal links and 10 new cards in this set, you can move to the other side of the dungeon in the blink of an eye – or stay where you are and throw potions across the board!
You can play this with just the original Munchkin Quest game or add in Munchkin Quest 2 – Looking for Trouble for extra mayhem!
Website Uitgever
Spel op BoardGameGeek
Promo Set 1
Free! One Troll Booth, complete with Troll!
Munchkin Quest Promo Set 1 is a little bonus for MQ fans. It includes a new room, a new monster, and a new kind of link, all in a single sheet.
The room is the Troll Booth, and the monster is, of course, the classic Troll. It's only level 10, but it has three treasures if you defeat it!
The links are Junky Passages. It takes 2 movement points to pass through . . . but you might find gold among the junk!